Eight Dog Toys In One Package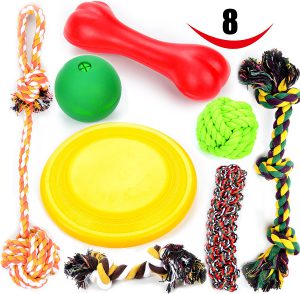 Every dog likes to play and using a toy just makes this chore easier and a lot more fun. The large dog chew toys 8 value pack contains eight different toys that you can use when playing with your pet.
There are five different kinds of rope toys, one ball, one bone, and one Frisbee to keep your dog in exercise mode.
These toys are all for large puppy breed dogs to enjoy removing that excess energy build up they store during the day.
If they like tug-o-war, or toss and fetch, there are toys in this pack that do all of this and more. The toys are made of high quality materials.
The toys are mainly for pet parents who own large puppy dog breeds. These toys will also help your puppy during their teething period as well.
The Frisbee and rubber ball float in water so you won't have to worry when you are near water. Even the bone that comes in the pack is bacon flavored which is an added bonus.
These toys also help to promote healthy teeth and gums while your pet plays with them.
Toy Sizes & Dimensions
The toy packet comes with 5 rope toys, 1 Frisbee, 1 bone and 1 ball all made out of rubber.
Frisbee: 8.8" & 0.33 lbs.
Bone: 8" & 0.76 lbs.
Ball: 3.75" & 0.44 lbs.
Rope 1: 21.5" x 4" & 0.66 lbs.
Rope 2: 16" & 0.66 lbs.
Rope 3: 21.5" & 0.66 lbs.
Rope 4: 10.5" & 0.33 lbs.
Rope 5: 4" & 0.55 lbs.
Product Rating & Reviews
This product is rated 4.5 stars out of 5, by over 40 customers which is excellent. You can read all of the customer reviews by clicking on the following link: Product Reviews!
Product Pricing
Note: The price for this product is subject to change without notice.
Shop Product
You can shop for this product by clicking on the "Buy This Product Now" button below. You will be taken to the Amazon product ordering page to place your order.
Go to the Dog.Dog Luxury Beds home page.
Large Dog Chew Toys 8 Value Pack
$19.95
High Quality Materials
9.0/10
Satisfaction Guranteed
9.5/10
Pros
All toys are safe and non-toxic.
All toys are strong and durable.
Value pack with eight toys.
Made with high quality materials
Satisfaction is guaranteed.
Cons
Price.
Made in China.
For dogs between 35 to 85 lbs.